Retro Peritoneum Tumor
What is the Retroperitoneum?
The retroperitoneal space (retroperitoneum) is the anatomical space (sometimes a potential space) in the abdominal cavity behind (retro) the peritoneum. It has no specific delineating anatomical structures. Organs are retroperitoneal if they have peritoneum on their anterior side only. ... Posterior pararenal space.
The retroperitoneum can host a wide spectrum of pathologies, including a variety of rare benign tumours and malignant neoplasms that can be either primary or metastatic lesions. Retroperitoneal tumours can cause a diagnostic dilemma and present several therapeutic challenges because of their rarity, relative late presentation and anatomical location, often in close relationship with several vital structures in the retroperitoneal space.
Tumours usually present late and cause symptoms or become palpable once they have reached a significant size. Retroperitoneal tumours are best evaluated with good quality cross-sectional imaging and preoperative histology by core needle biopsy is required when imaging is non-diagnostic. Sarcomas comprise a third of retroperitoneal tumours. Other retroperitoneal neoplasms include lymphomas and epithelial tumours or might represent metastatic disease from known or unknown primary sites. The most common benign pathologies encountered in the retroperitoneum include benign neurogenic tumours, paragangliomas, fibromatosis, renal angiomyolipomas and benign retroperitoneal lipomas.
Complete surgical resection is the only potential curative treatment modality for retroperitoneal sarcomas and is best performed in high-volume centres by a multidisciplinary sarcoma team. The ability completely to resect a retroperitoneal sarcoma and tumour grade remain the most important predictors of local recurrence and disease-specific survival.
Malignant tumours of the retroperitoneum occur four times more frequently than benign lesions. Sarcomas comprise a third of retroperitoneal tumours. Soft tissue sarcomas are rare tumours, with retroperitoneal sarcomas expected to compose approximately 15% of the 2,000 cases of soft tissue sarcomas anticipated in England and Wales each year. In the UK there are estimated to be between 250 and 300 new diagnoses of retroperitoneal sarcoma (RPS) each year. The retroperitoneum represents the second most common site of origin of malignant mesenchymal tumours after the lower extremities. Retroperitoneal tumours present several therapeutic challenges because of their relative late presentation and anatomical location. This review highlights the presentation, evaluation and initial management of patients presenting with retroperitoneal tumours and the surgical management of RPS.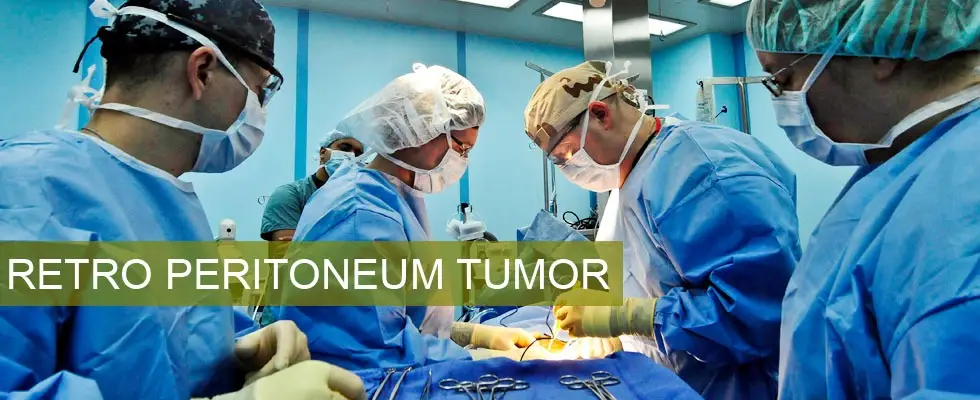 Surgical Management
Complete surgical resection is the only potential curative treatment modality for RPS but local recurrence occurs in a large proportion of patients and is responsible for as many as 75% of sarcoma-related deaths. The prognostic factors that are known to govern local recurrence and overall survival in RPS are complete macroscopic excision, tumour grade, multifocality and histological subtype. RPS carries a much worse prognosis than extremity sarcomas with five-year local recurrence-free survival after complete resection ranging between 55% and 78%, and five-year overall survival between 39% and 68%. This is because they are generally larger and arise in an anatomically complex and surgically inaccessible site with surrounding vital structures limiting wide margins. They are often not amenable to conventional radical radiotherapy. The likelihood of a complete margin-negative surgical resection depends on tumour biology, and invasion of adjacent visceral organs and vascular structures, and may be influenced by surgical experience and management in high-volume centres.
Resection of adjacent involved organs is frequently required and rates of resection of adjacent viscera are reported in large series from 34% to 93% while macroscopic clearance was obtained in 55–93% (Fig 9). Our unit's surgical approach involves a low threshold for organ resection to obtain a complete clearance of all macroscopic disease. This is performed as an en bloc resection of the sarcoma and contiguous organs that are macroscopically involved by tumour or enveloped by the tumour in order to gain complete macroscopic clearance. No attempt is made to resect organs that merely lay adjacent to the tumour and are not involved. We reported a resection of adjacent organ rate of 65% while macroscopic clearance was achieved in 85% of patients. The most common organs requiring resection are the colon, kidney, pancreas and spleen.